There are still spaces in our upcoming workshops with Guicy Guice! We will open registration to non-Seattle MQG members on Monday September 10, 2018 – so don't wait too long.
Below is An introduction from the Andover Fabrics website for those who are not familiar with Giuseppe and his work: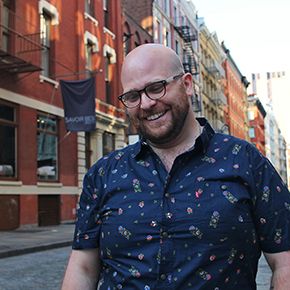 Giuseppe Ribaudo (AKA Giucy Giuce) learned to sew from his grandmother at a young age. In 2008 he began quilting and has never looked back. Not only a pattern designer and quilt instructor, he is also the multimedia manager at Andover Fabrics.
Giuseppe resides just outside of NYC in Queens. He is an avid modern traditionalist quilter with a great passion for simple design in bright colors.
Below is the information and registration links for the two workshops that are coming up on September 22nd and September 23rd:
Modern Quilt Photography & Branding Workshop 
This is your chance to get some tips and tricks for getting better photos of your quilts whether you plan on sharing them on Instagram/Facebook or entering them in shows.
The workshop will begin with a lecture on Modern Quilt Photography & Branding. Students are encouraged to bring in projects that will be photographed in the surrounding area of the lecture space. (A great opportunity to get photos of a recent finish with help!)
Students are required to have a camera or smart phone with a good camera for this workshop!
When: Saturday September 22, 2018; 10:30am – 4:30pm
Where: Greenwood Senior Center, 525 N 85th St, Seattle, WA. 98103
Cost: $66
Sign up here:  Modern Photograpy & Branding Sign-Up Form
Tiny Piecing Workshop 
Students will learn tips and tricks for creating micro quilt blocks and different ways to use them.
When: Sunday September 23, 2018; 1:30pm – 7:30pm
Where: Greenwood Senior Center, 525 N 85th St, Seattle, WA. 98103
Cost: $65 (*additional pattern purchase is required)
Sign up here: Tiny Piecing Workshop Sign-Up Form